Extrinsic Teeth Stains vs Intrinsic Teeth Stains


The combination of intrinsic colour and the presence of extrinsic stains on the tooth surface influence the colour and, thus, the overall appearance of teeth. There are two types of teeth stains that people have, extrinsic and intrinsic stains.
One can be removed with professional teeth whitening bleaching treatment, but the other requires other dental options.  Some people have a combination of both stains in which the extrinsic stains can be removed with teeth bleaching but with some intrinsic stains remaining.
Extrinsic Teeth Stains
Extrinsic stains are stains that occur on the exterior of your teeth, more specifically above the enamel.  They are usually caused by drinking and eating certain foods and drinks or smoking.
Poor hygiene is another cause of extrinsic stains. If you don't brush or floss your teeth often, stains will build up, causing discoloration. These types of stains have accumulated over the years on the teeth. Fortunately for most people, they have white teeth underneath their extrinsic stains.
Professional teeth whitening treatment will get extrinsic stains out quickly, and people will see 6-10 shades whiter within their 1st teeth whitening treatment.
Foods and Drinks that cause extrinsic stains include:
Coffee, tea, wines, colas, and certain fruits and vegetables rich in carotenoids or xanthonoids can stain teeth. Smoking and chewing tobacco tend to form a yellow-brown-black stain around the necks of the teeth above the gumline.
Intrinsic Teeth Stains
Intrinsic stains are those that cannot be easily removed through mechanical measures such as debridement or prophylactic stain removal. Intrinsic stains are below the enamel and not just surface stains like extrinsic stains.
Intrinsic stains can be caused by several things, including:
Using tetracycline antibiotics before age 8.
The antibiotics tetracycline and doxycycline are known to discolour teeth when given to children whose teeth are still developing (before the age of 8). Ingestion during the years of tooth development causes a yellow-green discoloration of dentin, which is visible through the enamel.
Mouth rinses and washes containing chlorhexidine and cetylpyridinium chloride can also stain your teeth. Antihistamines (like Benadryl®), antipsychotic drugs, and antihypertensive medications can also cause teeth discoloration.
Aging
As we age, the outer layer of enamel on your teeth gets worn away, revealing the natural colour of dentin, which is a yellowish colour. As we age, your tooth also lays down more dentin, decreasing the size of your pulp.
Secondary dentin deposition occurs throughout the pulp chamber's internal walls throughout life. Secondary dentin is darker and more opaque than primary dentin. This gives the dentin an overall darker appearance.
Genetics
Some people have naturally brighter or thicker enamel than others. Several genetic disorders affect tooth development (odontogenesis), and lead to abnormal tooth appearance and structure.
Enamel hypoplasia and enamel hypo calcification are examples of defective enamel that potentially gives a discoloured appearance to the tooth. Teeth affected in this way are also usually more susceptible to further staining acquired throughout life.
Fluorosis
Yellowish teeth can be caused by excessive fluoride use, either in the water or from toothpaste and other fluoride products like rinses and supplements. Fluorosis may occur when there is chronic and excessive exposure to fluoride during the years of tooth development.
Trauma
If your tooth has been damaged due to trauma like a fall, the discoloration can occur. Following an injury, red discoloration may develop quickly. The blood is then decomposed gradually, and a blue-brown discoloration develops.  Teeth may turn grey following trauma-induced pulp necrosis or death of the pulp.
Root Canal Treatment
If you have done a root canal treatment, the procedure often will result in internal staining of the tooth.  Because pulp tissue has been removed from the root canal treatment, the deadened dentin may darken over time.
Available Options for People with Intrinsic Stains
What should you do if you have intrinsic stains? Other options are available if you have tried teeth bleaching and your intrinsic stains do not whiten.
VENEERS
Veneers are thin pieces of porcelain or composite resin used to re-create the natural look of teeth. They are placed over the front part of the tooth like a sleeve. Veneers can correct many dental issues, such as teeth with intrinsic stains that cannot be whitened by bleaching.
People choose veneers as a cosmetic solution to enhance their teeth' brightness and straighten their smile, correcting issues like discoloration, fractures, or chips.
TOOTH BONDING
Tooth bonding is the application of a tooth-coloured composite resin (plastic) to repair a decayed, chipped, fractured or discoloured tooth. The composite resin used in bonding can be shaped and polished to match the surrounding teeth. Resin is applied to a tooth and hardened with a special light.
The light ultimately bonds the material to the tooth to improve a person's smile, including the appearance of discoloured teeth.
INTERNAL BLEACHING
Internal bleaching is recommended when the colour changes originate in the pulp and if the stains cannot be cleaned externally. It is a process which occurs after a tooth has been Endodontically treated.
This means that the tooth will have had the nerve of the tooth extirpated or removed through a root canal treatment at the dentist or by a specialist Endodontist.
Internal tooth bleaching consists of the insertion of an oxidizing chemical substance into the tooth's pulp using a small drilled incision into the pulp chamber from the back of the tooth.
Unsure what type of stains you have on your teeth?  Why not come for a professional teeth whitening treatment at advancedwhite.ca and see a difference in just one hour.
Fortunately, most people have only extrinsic stains and will get great results with an average of 6-10 shades whiter. If you have a combination of both intrinsic and extrinsic stains, you will still see good results from our laser teeth whitening procedure.
If your teeth have only intrinsic stains, we can recommend the best option available to get you a whiter smile again.
*5 LOCATIONS IN THE GTA TO SERVE YOU BETTER*
1 HOUR, 3 TREATMENT, PAIN FREE, WHITER SMILE TODAY!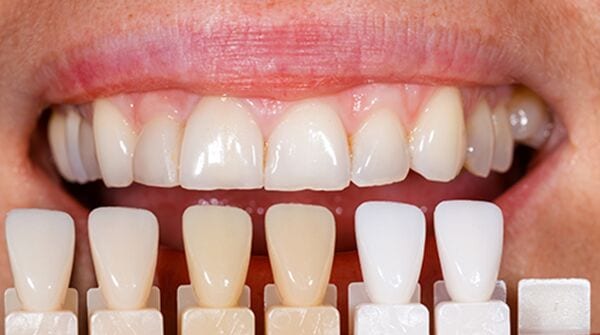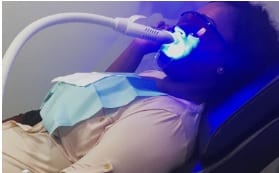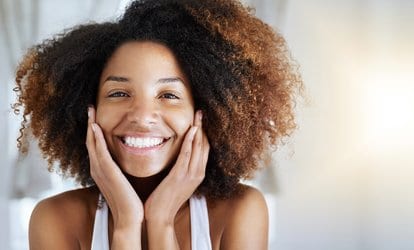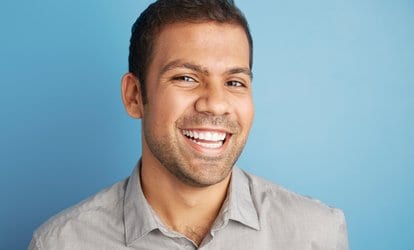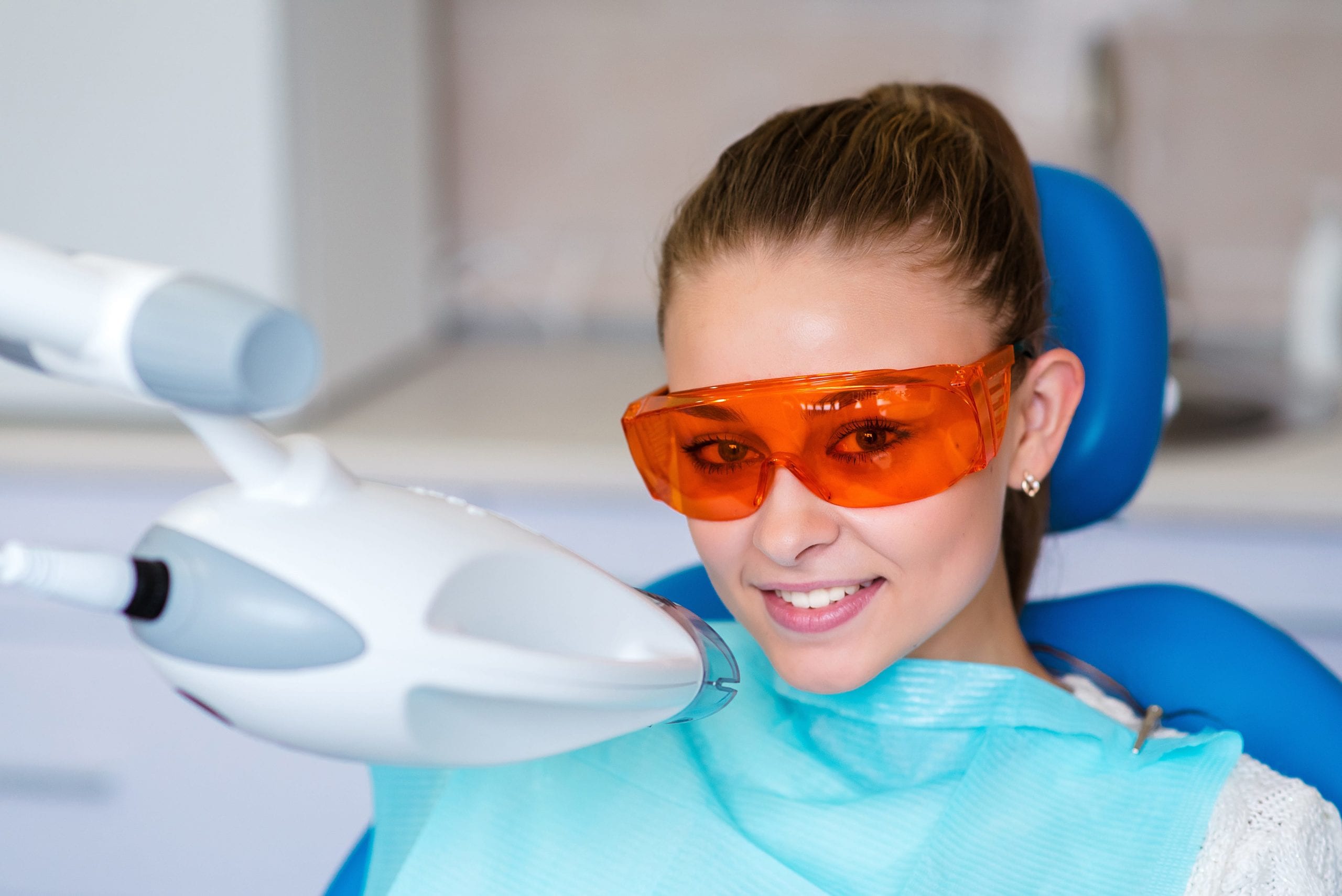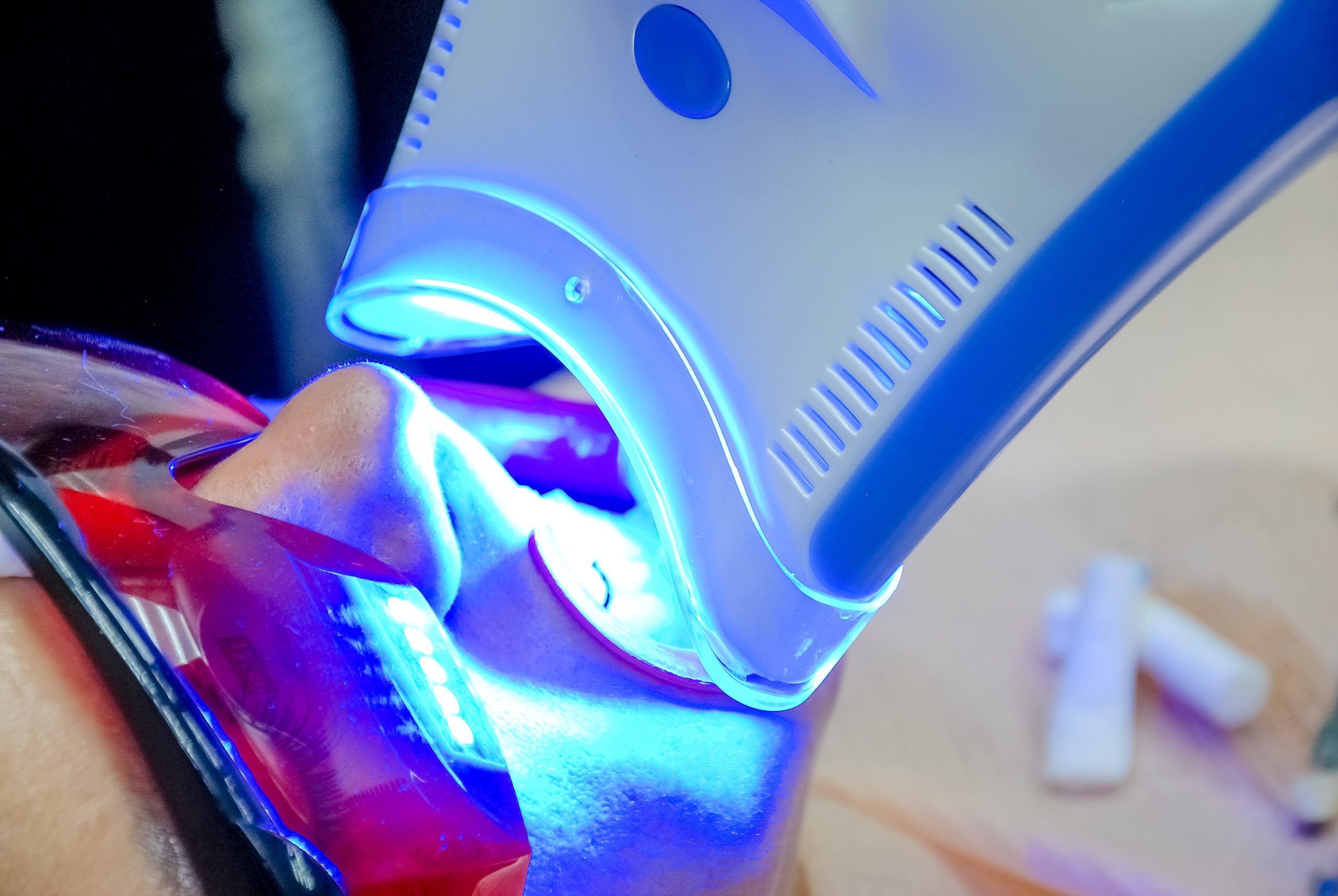 Our 1 hour 3-session procedure will help you get a brighter and whiter smile to help boost your confidence.  Advanced White provides state-of-the-art In Office and Mobile Laser Teeth Whitening services to clients in Toronto and Greater Toronto. We use a variety of proven non-invasive whitening treatments that make our clients' teeth whiter.
Our laser LED technology is one of the most effective teeth whitening solutions on the market today. Presently, we have five locations in the GTA. If you're looking for an effective, fast and affordable laser teeth whitening treatment, call now 647-931-3332 to book your appointment or click here to book online.
TEETH WHITENING CUSTOMER REVIEWS ONLINE


 Call To Book Your 1 Hour Student Teeth Whitening
Laser Teeth Whitening Appointment:  647-931-3332
Click To Book Whitening Appointment 

Here
ADVANCE WHITE CLIENT REVIEWS ON GOOGLE




Yelp
Great job whitening my teeth, I'd give a 5 if they had a subway station near the clinic, had to Uber there. But price was very reasonable and I'd definitely come back to do it again.
Anthony K.. - 225 WELLESLEY

Google review
Great results, did a before and after comparison and got about 8 shades whiter. Took about 45 min with the 3 concurrent sessions. Price is good too.
Steven Richards. - WELLESLEY

Google review
My teeth were visibly whiter after the teeth whitening treatment at a much better price than what I paid previously at my dental office. Will recommend to my friends.
Trevor Smith. - WELLESLEY

Google review
I did the Zoom treatment before and it was quite painful so was hesitant to go back to that again. I decided to do the Advanced White treatment and I was pleasantly surprised there was no sensitivity issues. My my teeth got a lot whiter so I'm very pleased with the outcome. I'll will definitely come back next time, maybe in 6 months.
Betty Lee. - WELLESLEY

Google review
Greg Peterson. - TORONTO
Comments are closed.